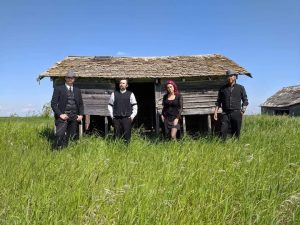 _________
Self styled "Parlourbilly" band Future Ghost Towns bring their swaggering, spooky style to grace our Paddock Radio general rotation this week with their debut album going straight into our play vault
Hailing from Calgary, Alberta, Canada, Future Ghost Towns are guaranteed to entertain with their original blend of floor-stomping riffs and haunting lyrics. Showcasing an ensemble of banjo, washboard, upright bass, and percussion, this modern take on a traditional sound will make you kick up some dirt and say "goddam!".
Future Ghost Towns are:
Uncle Joe –banjo and vocals
Mae De Light –washboard/percussion and vocals
Pedro –upright bass and vocals
Rose –drums
Check out their releases and find out more about the band at the links below.
Thanks for your support!
Powered by Embed YouTube Video
https://www.facebook.com/futureghosttowns/